Sports Performance and Injury Prevention
"The most important man on the team may have been the chiropractor." "I could not have won without my Chiropractor's help".
Lance Armstrong 7 times Tour de France winner
in his book "Every Second Counts"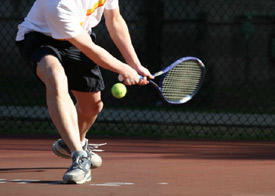 When a runner injures a calf muscle half way through a race, or a footballer pulls a hamstring as he kicks the ball in the same way he has kicked it thousands of times before, it may not be the running or the kicking that has caused the injury – but an underlying problem that is finally showing itself.
Whether you are an amateur sports enthusiast or a professional, your body is prone to the same kinds of injuries. Repeated stresses can lead to loss of proper movement in the spine and joints which in turn can interfere with healthy muscle and nerve function. You may have been ignoring pain and carried on with your sport too long without proper treatment and now find yourself with a chronic injury or may have pulled or strained tendons and ligaments. These injuries often recur and may shorten promising sporting careers or turn enthusiastic amateurs into coach potatoes. This is often when the chiropractor is called in.
It is not only in cases like this that chiropractic can help but also in situations when an active sports person finds they reach a threshold of ability and can't improve further no matter how hard they work or how much training they do. The reason why chiropractic helps in both cases is based on a very simple fact.
Chiropractic care is concerned with human performance and is based on the scientific fact that the nervous system controls every cell, tissue, organ and muscle in the body. If we can allow the body's nervous system to work unimpeded and in partnership with a balanced joint and muscular system free from structural stress, the athlete is then free to perform to their maximal potential.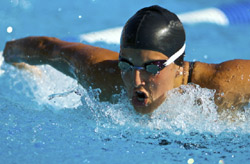 In a sports performance study, the athletes under chiropractic care showed a 16.7% advantage over the other athletes in terms of agility and power, while also demonstrating a reaction time 18 times greater than the control group. Other studies carried out have shown increased recovery rates and increases in lung volume capacity. This means that whether or not an athlete is under chiropractic care can make the difference between performing at 80-90% or 110-120%. Imagine the difference this makes over 100 metres or on the number of points a team has at the end of a season.
In addition to heightened levels of performance, chiropractic care has been shown to help both injury recovery and injury prevention. Chiropractic focuses on the entire structure of the body rather than just the obviously injured part and can therefore help to detect and prevent future injuries.
Specific evidence for this is the fact that AC Milan football club have experienced a 92% reduction in non-traumatic injury after integrating chiropractic care into the medical management of its players.
"I only wish I had tried chiropractic a few years ago when I first started having back pain and maybe surgery would never have happened. I feel it helps me recover sooner and prevent injuries. It's about prevention so your body can function at optimum health."
Joe Montana, four times NFL Superbowl Champion
---
Experience helping Sports Performance and Sports Injuries
Chiropractor Gary has a wealth of experience and really enjoys treating sports people in Dubai. To ensure that his patients receive the best standards in sports chiropractic care possible he has undertaken extra postgraduate study in sports science and has been awarded an International Chiropractic Sports Science Diploma from the International Federation of Sports Chiropractic.
He has volunteered as an official chiropractor at the Dubai Rugby 7s in 2006, 2007, 2008 and 2009, and also at the Dubai Half Marathon and the Dubai Gaelic Games. He is one of only 25 chiropractors worldwide, and the only representative from the Middle East and North Africa, to be selected to attend the World Games in Taiwan 2009 as part of the medical team.
His patients have included professional soccer players, golfers, rugby players, boxers, jockeys, racquetball players, squash players, gymnasts, yachtsmen, polo players, Olympic athletes and world champions.
He is a member of the International Federation of Sports Chiropractic.
"A Chiropractor was instrumental in putting my body back together."
Martina Navratilova, former WTA World No. 1 and nine times
Wimbledon Ladies Singles Champion
To schedule an appointment, call our Dubai clinic today.
---
My Dubai Chiropractor | Dubai Chiropractors | Phone: +971 4 344 7333